Catch Me if You Can: The True Story of a Real Fake
| | |
| --- | --- |
| Title: | Catch Me if You Can: The True Story of a Real Fake |
| Author(s): | Frank W. Abagnale, Jr. with Stan Redding |
| Publisher: | Grosset & Dunlap Inc |
| Published: | January 1980 |
| Format: | epub |
| Date Added: | May 17, 2023 |
| calibre ID: | e-1660 |
| Read: | Yes |
| Date Finished: | April 15, 2011 |
About the Book
The uproarious, bestselling true story of the world's most sought-after con man, immortalized by Leonardo DiCaprio in DreamWorks' feature film of the same name, from the author of Scam Me If You Can.

Frank W. Abagnale, alias Frank Williams, Robert Conrad, Frank Adams, and Robert Monjo, was one of the most daring con men, forgers, imposters, and escape artists in history. In his brief but notorious criminal career, Abagnale donned a pilot's uniform and copiloted a Pan Am jet, masqueraded as the supervising resident of a hospital, practiced law without a license, passed himself off as a college sociology professor, and cashed over $2.5 million in forged checks, all before he was twenty-one.

Known by the police of twenty-six foreign countries and all fifty states as "The Skywayman," Abagnale lived a sumptuous life on the lam—until the law caught up with him. Now recognized as the nation's leading authority on financial foul play, Abagnale is a charming rogue whose hilarious, stranger-than-fiction international escapades, and ingenious escapes-including one from an airplane-make Catch Me If You Can an irresistible tale of deceit.
Source: Penguin / Random House
---
Wikipedia Entry (Exerpts)
Catch Me If You Can is a semi-autobiographical book about criminal exploits allegedly engaged in by Frank Abagnale Jr., an American onetime con artist. Abagnale claims that, as a young man, he cashed $2.5 million worth of bad checks while impersonating a Pan Am pilot, a doctor, a teacher, and an attorney. The book is acknowledged to have been partly fictionalized, and the factual basis for the events contained in the book has been challenged. Co-written by Abagnale and Stan Redding, Catch Me If You Can was adapted into a film of the same name by director Steven Spielberg in 2002. In the film, Abagnale was portrayed by actor Leonardo DiCaprio.
Summary
The book is loosely based on the real con artistry exploits of Frank Abagnale. It is written in the first person and describes how Abagnale cashed $2.5 million worth of bad checks. He assumed various jobs, such as pretending to be a Pan Am pilot, a doctor, a teacher, and an attorney. Abagnale was eventually caught by the FBI while living in France and served approximately five years in prison—six months in France, six months in Europe, and four years in the United States. The book ends with an epilogue telling the story of Abagnale's final capture and his rehabilitation, which resulted in the creation of his security firm.
Veracity
The book is prefaced with the statement: "This book is based on the true-life exploits of Frank Abagnale. To protect the right of those whose paths have crossed the author's, all of the characters and some of the events have been altered, and all names, dates and places have been changed." The character of FBI Agent O'Riley is known to be based on Joseph Shea, with whom Abagnale went on to form a lifetime friendship.
After Abagnale spoke at a seminar in 1978, two years before the book's publication, a San Francisco Chronicle reporter phoned a number of institutions that Abagnale mentioned to confirm his claims and found no evidence for them. Abagnale responded that he doubted anyone would confirm them due to embarrassment. He later said he had changed the names.
In 2002, Abagnale addressed the issue of the book's truthfulness with a statement posted on his company's website which said (in part): "I was interviewed by the co-writer only about four times. I believe he did a great job of telling the story, but he also over-dramatized and exaggerated some of [it]. That was his style and what the editor wanted. He always reminded me that he was just telling a story and not writing my biography." Specifically he addressed details such as the amount of money he wrote in bad checks, and the years in which his crimes took place.
In 2020, journalist Alan C. Logan made an in-depth investigation as part of publishing a book on Abagnale's life story, finding earlier newspaper articles that cast doubt on Abagnale's story and locating numerous administrative documents that contradicted many of Abagnale's claims. Logan's investigation found that Abagnale's claims were, for the most part, fabrications. Documents show that Abagnale was in Great Meadow Prison in Comstock, New York, between the ages of 17 and 20 (July 26, 1965, and December 24, 1968) as inmate #25367, the time frame during which Abagnale would claim to have committed his most significant scams. Logan's investigation uncovered numerous petty crimes that Abagnale has never acknowledged, and with Logan giving evidence to argue that many of Abagnale's most famous scams in fact never occurred.
Film adaptation
The 2002 film Catch Me If You Can, directed by award-winning director Steven Spielberg, stars Leonardo DiCaprio as Abagnale and Tom Hanks as his FBI pursuer, renamed Hanratty in the adaptation. The film is based upon his life and the autobiography and is mainly true to the source as Abagnale was a consultant to the writers, but some of the details were changed to create a more dramatic narrative for film.
Musical adaptation
Abagnale's life was adapted into a musical of the same name, which previewed on March 11, 2011, and opened on April 10 at the Neil Simon Theatre on Broadway. The show starred Aaron Tveit as Abagnale, Norbert Leo Butz, Tom Wopat and Kerry Butler. Butz won the Tony Award for Best Actor in a Musical at the 65th Tony Awards. The show closed September 4, 2011.
Source: Wikipedia
---
Review
Catch Me If You Can by Frank W Abagnale – Review
By Elle19 | October 25, 2015
'To me, his most exhilarating feat is Abagnale's ability to make you believe his sin'
Typically, criminals aren't greeted with approbation but in this book you can't help supporting the quick-witted, dynamic aptitude of my favourite con artist, Mr Abagnale.
Catch Me If You Can is the great 1980 memoir, written by the con artist himself, describing his tales of devious calculating, dishonesty, and astonishing quick escapes!
Raised in Bronxville, New York, Abagnale was a phenomenal liar from the outset. As young as 15, he swindled his father by piling up $3,400 in fake charges on his dad's Mobil card, influencing numerous petrol station attendants to bill him for repairs in exchange for cash. This was the moment when Abagnale became hooked on the con scheme and his confidence stemmed form there writing "the image of me – a darkly handsome young air pilot".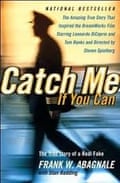 Abangale quits 'high school' and moves to the city where he starts his ruse as a fake pilot for Pan Am airlines – jetting of to destinations all around the globe in the 'jump seat' of the aircraft, whilst simultaneously charming many beautiful women. This teenage swindler also manages to pass himself off as a lawyer and doctor, possessing no experience in either. (Now you see how good he must've been!)
I won't let on about whether his time as a high-flying charmer eventually meets its end, but what I will say is that you're sure to not want to meet the end of this book. To me, his most exhilarating feat is Abagnale's ability to make you believe his sin. You're supporting a man who would manipulate you just as easily but it's not everyday that you meet a criminal this hard to find so he deserves some credit J
I rate this book a 4.5/5 because he's just too cool and be warned: it's aimed at 13+.
Source: The Guardian
---
About the Author
Frank W. Abagnale, Jr.
Born and raised in the Westchester County city of Bronxville, New York, Abagnale attended Iona Preparatory School, an all boys Catholic high school which is run by the Irish Christian Brothers. He was the third of four children (two brothers and one sister) born to a French mother, Paula Abagnale, and an American father, Frank William Abagnale, Sr.

One of the early signs of his future as a fraudster came when, after purchasing a car, he persuaded his father to lend him his Mobil card. With this card, he would purchase large quantities of car parts, such as tires, batteries, engines and fuel. The purchases were on paper only, the goods were never taken from the shelves. In an agreement with the gas station attendant, he would then immediately return the items for cash for less than the price at which they were purchased, the remainder being pocketed by the attendant. Not realizing that the card was in his father's name, he tricked his dad out of $3400, doing this to pay for dates, before the local Mobil branch sought his father out for questioning and expecting payment. Upon being confronted, Abagnale confessed to his father that "it's the girls that make me crazy", but escaped punishment for the incident. Later, his mother placed him for four months in a special Catholic Charities school for juvenile offenders.

In 1964, when he was 16, his parents divorced. The experience was so traumatic that he ran away during a court break. It was the last time he saw his father, though he renewed contact with his mother after seven years.

Living alone in New York City after running away, he became known as the "Big Nale", later shortened to just "Big". He decided to exploit his mature appearance and alter his driver's license to make it appear that he was ten years older to get a job. However Abagnale, posing as a high school dropout in his mid-twenties, quickly learned the more education one has, the more one is paid. Desperate to survive, he soon began working as a confidence trickster to earn money.

He has since become the founder of a secure-document corporation based in Washington DC. He lectures regularly worldwide and lives in the Midwest with his wife and three sons.
Source: Goodreads
---
You may also like: